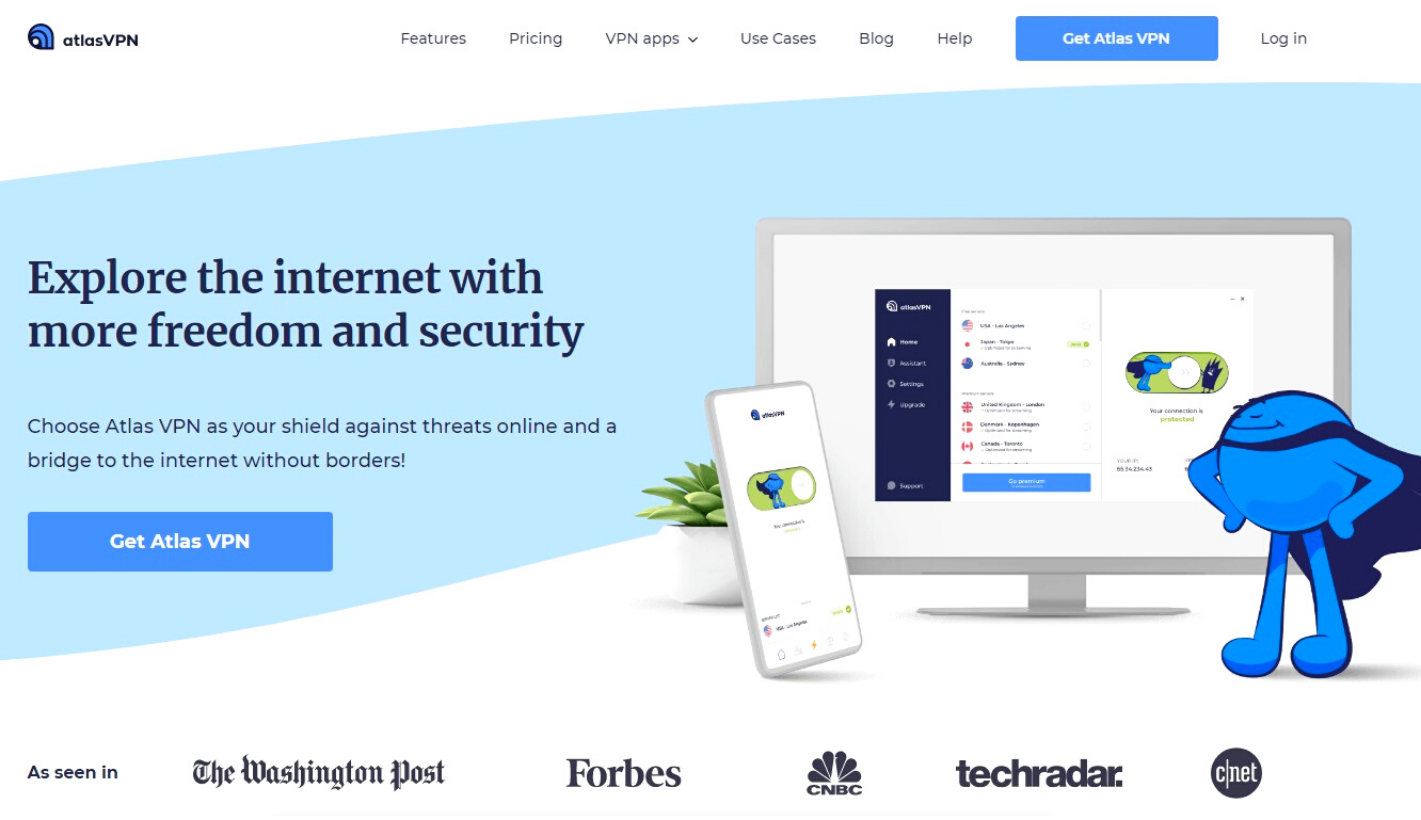 Summary Review
Atlas VPN was launched only in January of 2020 but it's already kickin' up a storm among many VPN users. It's advertised as a free VPN service that values your privacy, does not bombard you with ads, does not have a data cap, and uses military-grade encryption. In short, it's everything that most other "free" VPN brands are not which is honestly very refreshing. Of course, if you want access to optimized and faster servers, Atlas VPN also offers a Premium version.
This VPN provider is also gearing up real fast, with over 570 servers spread across 17 countries in just a year of operation. Connections are fast, reliable, and safe with an IPv6 protocol and protection against DNS and WebRTC leaks. The apps are all compatible with Windows, macOS, Android, iOS, and soon, Chrome.
What we like further about this service is that they collect a very minimal amount of data. In fact, if you're using the free version, you don't even need to register! Sounds good so far but let's find out if this service is, indeed, as great as it claims to be.
Privacy / Anonymity
Atlas VPN runs on an industry-standard combination of AES-256 and IPSec/IKEv2 to secure its web traffic. This makes it practically unbreakable so you won't have to worry about hackers getting their hands on your information. What about the Atlas VPN itself, how much of your data is being stored? According to their Privacy Policy:
"We are no-logs VPN: we do not collect your real IP address and we do not store any information that identifies what you browse, view, or do online via that VPN connection. The only information collected is basic analytics, to ensure great service to all our users. This also means that we do not have any data to share with law enforcement and government agencies who make requests for information about what you were doing through a VPN connection."
Well, that is very comforting especially since Atlas VPN is under the "5 Eyes" agreement. With this data logging policy, they won't have any data to hand over to governments or law enforcement. In addition, Atlas VPN also features a Kill Switch to protect you against data leaks in case connection drops. Another handy feature is the "SafeBrowse" which warns you when you are about to open a malicious or potentially harmful website. As of this writing, however, both the Kill Switch and SafeBrowse features are only available on Android and iOS apps.
Speed and Reliability
To test Atlas VPN's speed and reliability, we used it over several weeks for online gaming and day-to-day browsing. Before connecting to a server, we usually have an average download speed of 49 Mbps and an upload speed of 7 Mbps. There was hardly any difference when we connected to a local server as our download speed remained stable, averaging at 41 Mbps and the upload speed hovered around 4 Mbps. Not surprisingly, the speeds dipped a little as soon as we switched to a server in the US (we were somewhere in Europe at the time of this review). From 49 Mbps base download speed, it dropped to around 37 Mbps while the upload speed decreased to 3 Mbps. Overall, our experience was more than satisfactory. Take note, however, that the speed tests were done on a Premium account.
Platforms and Devices
Atlas VPN is compatible with your mobile phone, tablets, laptops, and desktop computers and supports a number of platforms including Android, iOS, macOS, and Windows. Right now, Atlas VPN doesn't work on OSX clients.




Server Locations
Currently, Atlas VPN has a total of 573 servers in 17 countries: Australia, Austria, Belgium, Canada, Denmark, France, Germany, Ireland, Italy, the Netherlands, Norway, Singapore, Spain, Sweden, Switzerland, United Kingdom, and the United States.



























Customer Service
Atlas VPN has a comprehensive FAQ section under the HELP tab. The articles aren't well organized although we found the Search bar helpful in finding what we need. If that fails, you can always send them an email at support@atlasvpn.com. If you're a Premium subscriber, just log in and you'll have access to personalized 24/7 customer support.
Pricing
For context, let us first discuss the differences between the free and paid subscription. The free version basically gives you unlimited bandwidth, data encryption, and encapsulation, as well as limited access to only 3 locations: The USA, Japan, and Australia. On the other hand, here's what you can get from a premium subscription:
• More than 20 locations worldwide and 500+ servers
• 24/7 customized support
• Simultaneous premium services usage on an unlimited number of devices
• SafeBrowse feature and safety check-up
• More high-speed performance and unlimited bandwidth
Now that we have that out of the way, let's discuss the rates. The monthly cost is not exactly competitive at $9.99, considering that the average monthly charge for a VPN service is around $5. The price significantly goes down though if you subscribe annually at $2.49 per month, and is further slashed at $1.39/month if you pay upfront for 3 years. While it's not exactly the lowest out there, it's worth noting that Atlas VPN does not impose any limits on the number of devices connected to one premium account. This means you don't have to buy an extra subscription just to cover all your devices in the household!