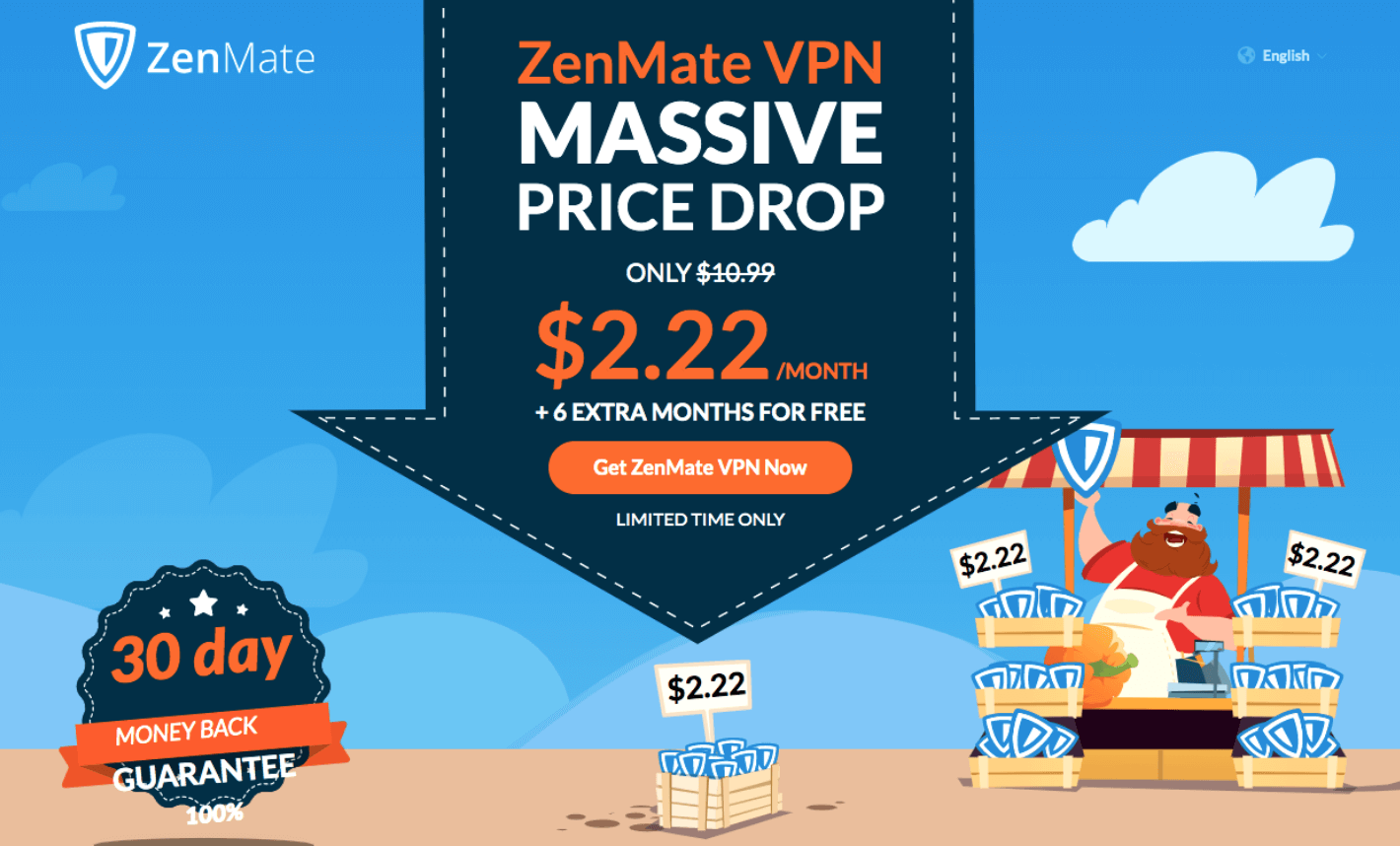 Summary Review
Established only in 2013, ZenMate quickly became one of the most popular VPN providers mainly because of its speedy connectivity and intuitive interface. Currently headquartered in Berlin, Germany, ZenMate recently celebrated a major milestone of reaching 45 million installs worldwide.
ZenMate provides a VPN connection using an IPsec protocol and is accessible via a desktop client, browser extension, or mobile app. Some of the highlights include its 100% guaranteed no-log policy, over 3600 servers in 74+ countries, built-in DNS leak protection, and Kill Switch feature.
Many people including the non-techy ones will find it easy to use with plenty of features, enough country locations, and sufficient speeds. If you're looking for a VPN service to use for browsing and general security, ZenMate is definitely worth checking out.
Privacy / Anonymity
ZenMate is big on anonymity and privacy. For starters, ZenMate supports Advanced Encryption Standards or AES. Just to give you an idea of how secure this is, it's the very same encryption method used by the federal government and Fortune 500 companies. Their browser extensions utilize AES 128-bit encryption while mobile and desktop clients use AES 256-bit.
For its security protocols, ZenMate VPN offers 1Kev2, L2TP, and OpenVPN which made it one of the most versatile VPN services out there.
The Kill Switch feature is another must-have that this service happily provides. It's a fail-safe security measure that automatically ends your session the moment that your signal becomes unsecured. This provides an extra layer of protection by ensuring that your private and sensitive data are never compromised.
ZenMate also claims to follow a strict zero-logs policy, maintaining that all of your online activities remain anonymous the moment that you hit the button on their app. This means you can rest easy that no unsavory individuals will get wind of your browsing history or sensitive data. You'll also be happy to know that advertisers can't use your preferences and personal information to bombard you with ads based on your browsing history and interests.
Speed and Reliability
Waiting for a web page to load is a complete waste of time. Fortunately, ZenMate VPN won't keep you waiting. Of course, for the best browsing experience, you need to connect to a server that's closest to your physical location. We tested ZenMate VPN using SpeedTest and tried to connect to the US server halfway across the world. Our base speed before using the VPN service was 12.62 Mbps for download and 0.85 Mbps for upload. Connecting to a US server resulted in a speed loss of 2.91 Mbps which is still great even for video chats.
Platforms and Devices
A single ZenMate account offers protection for unlimited devices and is compatible with iOS, Android, macOS, Windows, and OpenVPN. It supports multiple browsers like Chrome, Firefox, Opera, and some Chromium-based browsers. Because of its OpenVPN protocol, you can install ZenMate on a wide variety of gaming consoles and operating systems like Ubuntu and Raspberry Pi.
Server Locations
Connect to 3600 servers located in over 74+ countries worldwide. What's neat about ZenMate VPN is its Smart Locations feature which allows you to conveniently select a server while you are on a specific website.
Customer Service
One thing you will notice right away when you click on ZenMate's support page is the apparent lack of live chat option. This could be off-putting for some especially if you need help with something urgent. We did try their contact form and were pleasantly surprised to get a response in less than 15 minutes. Other than that though, the page has tons of articles on getting started, feature questions, troubleshooting steps, and more.
Pricing
ZenMate doesn't offer a free trial but it has a very generous money-back guarantee period of 30 days. Currently, it has a premium plan offered in 3 tiers: 1 month, 1 year, and 3 years. The monthly subscription costs $10.99 / 10.99€ per month while the 6-month subscription costs $5.39/month ($32.34) or 5.39€/month (32.34€) if you are in Europe. Get the most value for money when you pay upfront for an 18 month subscription as the monthly fee dwindles to only $2.22 / 2.22€!