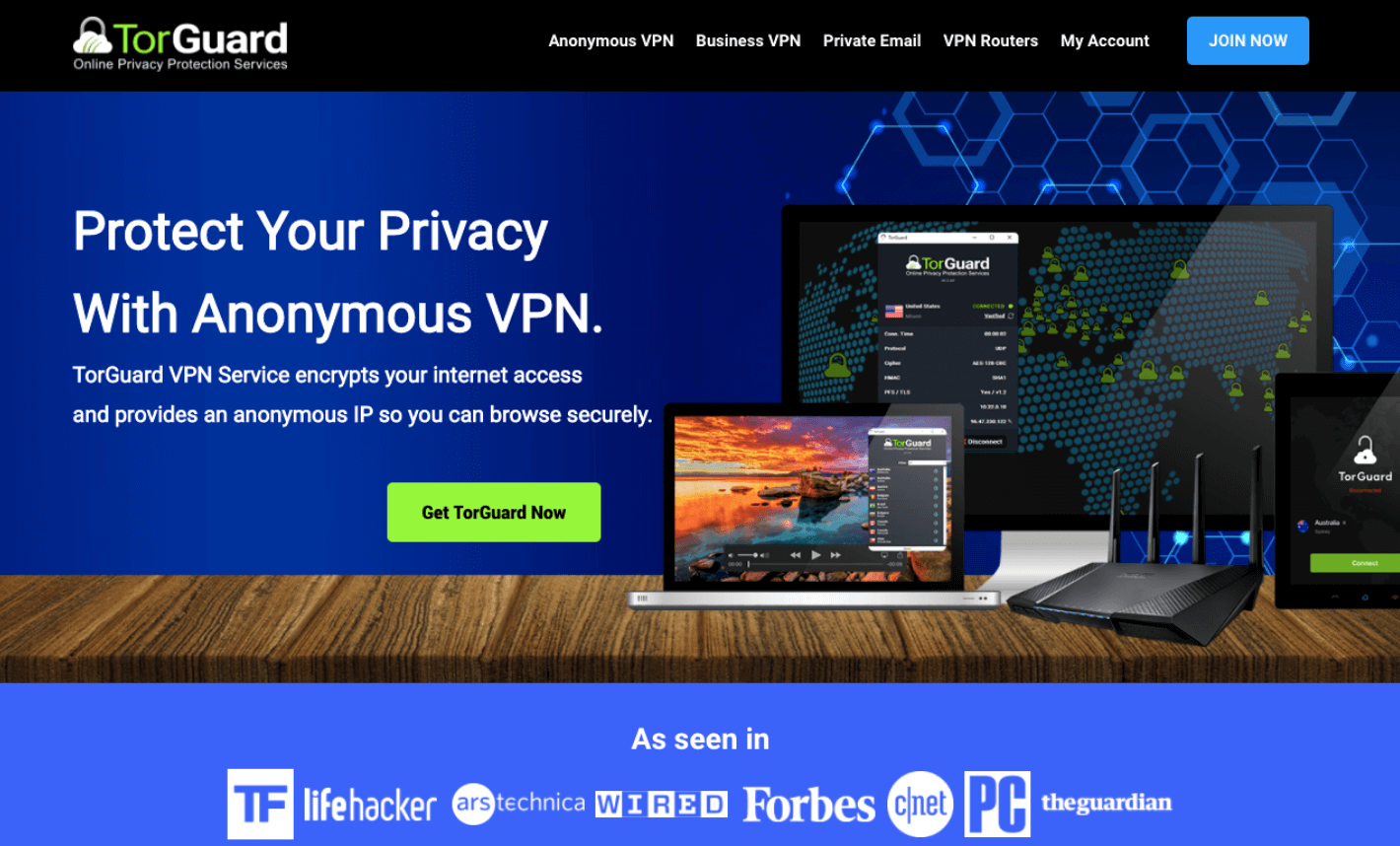 Unique Advantages
• Full suite of network protocols
• Uncompromising privacy
• Top speed scores
• Diverse distribution of countless servers
• Numerous add-ons
• Cross-platform compatibility
• Live-chat support
• 7-day money-back guarantee
Company Background
Founded in 2012, TorGuard is a fairly new company in the VPN business. The demand for secure and private connections has increased since the rise of cyber threats. Concerned users are also skeptical about reports of ISPs selling user data. All of these reasons have made ground for VPNs like TorGuard to thrive.
The VPN is not to be confused with the TOR browser, which has similar privacy features. TorGuard has excelled from other VPNs because of its advanced network protocols. Also, its unparalleled privacy features make it one of a kind.
Accomplishments
TorGuard VPN has been warranted by several well-known technology watchdogs. Here is the list of a few:
• PC Magazine ranked TorGuard as the fastest in terms of speed.
• Forbes also recognized the VPN's exceptional abilities in secure browsing and establishing private connections.
• CNET rated TorGuard five out of five for its top of the class VPN services.
Server Locations
The main purpose of VPNs is to make your online presence anonymous and establish secure connections. It does that by encrypting user data and connecting the user to servers in far-off locations.
TorGuard excels at this by letting its users access a ridiculous number of servers. Overall, TorGuard has 3000 VPN servers spanning across over 50 countries. The sheer number of servers enables their users to access a greater share of bandwidth. Having a decent share of bandwidth also means that your ISP can't suffocate your connections anymore.
The VPN also caters a robust geographical distribution. The servers are diversely placed in America, Europe and Asia. TorGuard also operates in countries with sensitive internet policies like Turkey, China, and Russia. The VPN's expansive reach also extends to countries in Africa.
A greater number of locations also mean you'll have more options to choose from. A well-balanced distribution of servers increases the chances of having a server nearby, which results in lower latency and better performance.
Some users are concerned about the use of virtual servers by VPN companies. Virtual servers are software-defined servers and many of them can exist on a single hardware server. However, TorGuard claims that it does not use virtual servers, so there's no need to worry.










































Speed and Reliability
VPN services tend to take a toll on your network performance. It makes sense that routing your traffic through an intermediary will affect the speed of your connection. However, TorGuard does an efficient job of maintaining quality.
During PC Magazine's testing of TorGuard using a nearby VPN server, it outperformed all other VPNs. As it turned out, the difference in download speed percentage was only 3.7%. Whereas the latency of connections actually improved by 6.7% instead of declining.
While these numbers look promising on paper, relying too much on them isn't recommended. Network connections are dodgy and can vary from time and place. Many tests on the TorGuard also indicate that the VPN is inconsistent with its speed. Many locations have fast connections available out there while others offer below-average speeds. Whatever the case may be, the VPN still provides express connections for most locations.
Platforms and Devices







The VPN is recognized for its inclusive support of many secure VPN protocols. The list includes PPTP, L2TP, and OpenVPN security protocols. Such a diverse range of network protocols enables the VPN to be compatible with a vast number of devices.
TorGuard VPN is supported on all devices supported by operating systems such as Windows, Mac, Android, iOS, and Linux-based systems. Other than PCs, phones, and tablets, the VPN can be configured with DD-WRT and Tomato routers.
The VPN supports browser extensions to Google Chrome, Safari, and Mozilla Firefox web browsers. Third-party software such as AnyConnect and BitVise SSH Client is also compatible with this versatile VPN.
Encryption & Logging Policy
TorGuard doesn't log your data at all, it collects some information when you buy its products, but that's about it. The company will not share or sell your information with anyone.
The Bottom Line
Though it looks a bit dated and can be a bit difficult to use for beginners,
TorGuard is unique in its high configurability and advanced options.