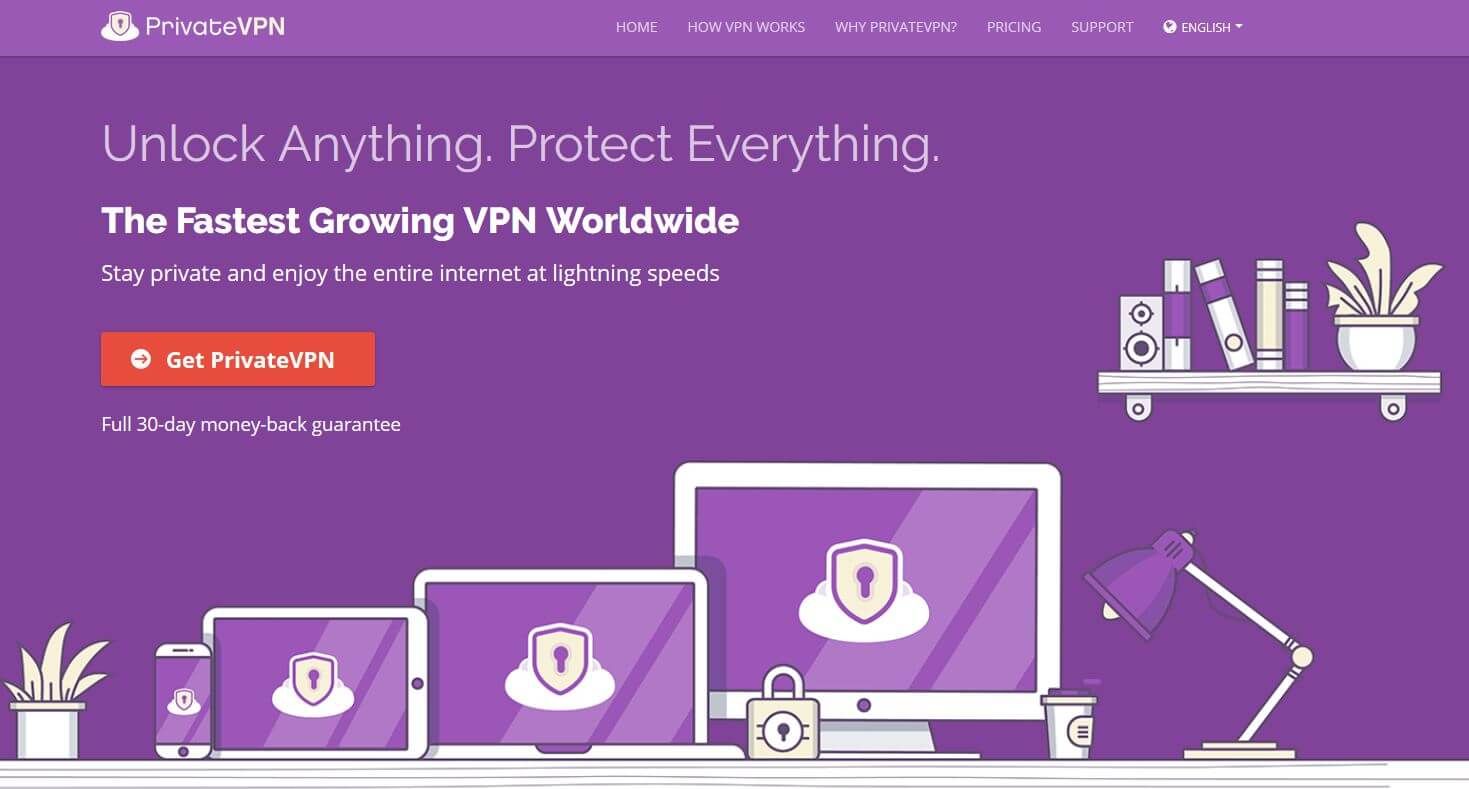 Summary Review
Founded in 2009 in Stockholm, Sweden, PrivateVPN offers affordable prices, a simultaneous connection of up to 6 devices, tight security, and a user-friendly interface. It is a strict no-logs VPN service that has over 150 servers located across 60 countries so you can stay securely connected wherever you are in the world.
Privacy / Anonymity
Whether you're using a VPN for work or to stop online snoopers from spying on your browsing habits, PrivateVPN has got you covered. First off, it can protect your data with several encryption protocols such as OpenVPN or L2TP/IPsec. As soon as you connect to the app, PrivateVPN automatically selects the best VPN protocol for your network. PrivateVPN also features an automatic kill switch, so your data remains secure even if your connection suddenly drops. However, one thing to note is that the kill switch feature is only currently available on the Windows app, which is a bit of a bummer. Still, it has DNS and IPv6 leak protection for added security.
Now, if you're worried about the fact that PrivateVPN falls under the 14-Eyes Alliance jurisdiction, don't be! The company is pretty straightforward and transparent as to what sort of information they collect and for which purpose. They have clearly stated that it "does not collect or log any traffic or use of its service". The only information they require is your email address and password which will be used to create your account after registration.
Speed and Reliability
With only 150+ servers, it is understandable to worry that PrivateVPN might be struggling in the speed and reliability department. However, test results showed that they are on par with other providers with thousands of server locations. This only goes to show that the network size isn't really a deal-breaker. We tried to connect to a number of its servers to see if our speeds suffer as is usually the case with using VPN and started off with a base download speed of 65Mbps. Connecting to a server in the US resulted in a download speed of 22.3Mbps while another server delivered a download speed of 61.26 Mbps. The servers in the UK weren't so bad either, with download speeds of 59Mbps. The speed took the most hit when we tried connecting to a server in Australia as it plummeted down to just 3.38Mbps. This just goes to show that the speed suffers when you connect to servers located halfway across the globe. Still, the average connection speed is pretty decent and is good enough for MMO games, downloading files, video conferencing, and more.
Platforms and Devices




As we have mentioned previously, the automatic kill switch feature is only limited to the Windows App which is probably its biggest weakness. Other than that, it has dedicated apps for Windows, Mac, Android, and iOS devices. There are also manual guides available for Linux, and other compatible routers. Now, while most other providers only allow 5 devices for simultaneous connection, PrivateVPN goes a step further by allowing 6 devices under a single subscription which makes it a great choice for families, small businesses, or gadget freaks.
Server Locations
PrivateVPN currently has over 150+ servers located in 60 countries and this network is still expanding. While this doesn't sound impressive compared to other VPN providers that boast of thousands of servers, it really is only due to the fact that it is still relatively new in the market with far fewer users. Still, its impressive performance speaks for itself so the network size is a moot point.






















































Customer Service
There seems to be a lot of confusion regarding PrivateVPNs live chat feature with some people saying it is not available 24/7 or that it's only available in European daylight hours. Well, there is only one way to find out. I tried using the live chat button and was instantly connected to a support agent. He confirmed that the live chat option is currently not available 24/7 and that there is no specific time frame on its availability. It would be good if they can be more transparent about this. Other than that downside, their support page contains helpful resources such as detailed installation guides as well as an FAQ page. If you encounter a more complicated issue, they also have a TeamViewer which gives technical support representatives remote access to your device so they can troubleshoot on your behalf.
Pricing
Similar to other VPN providers, PrivateVPN offers three different plans that vary only in duration. The prices are surprisingly affordable with discounts offered on longer plans. One month costs $7.67 while a 3-month plan is available for $4.88 per month. You get the most bang for your back when you pay upfront for 13 months as the monthly fee dwindles to just $3.82. All of the plans come with a 30-day money-back guarantee.