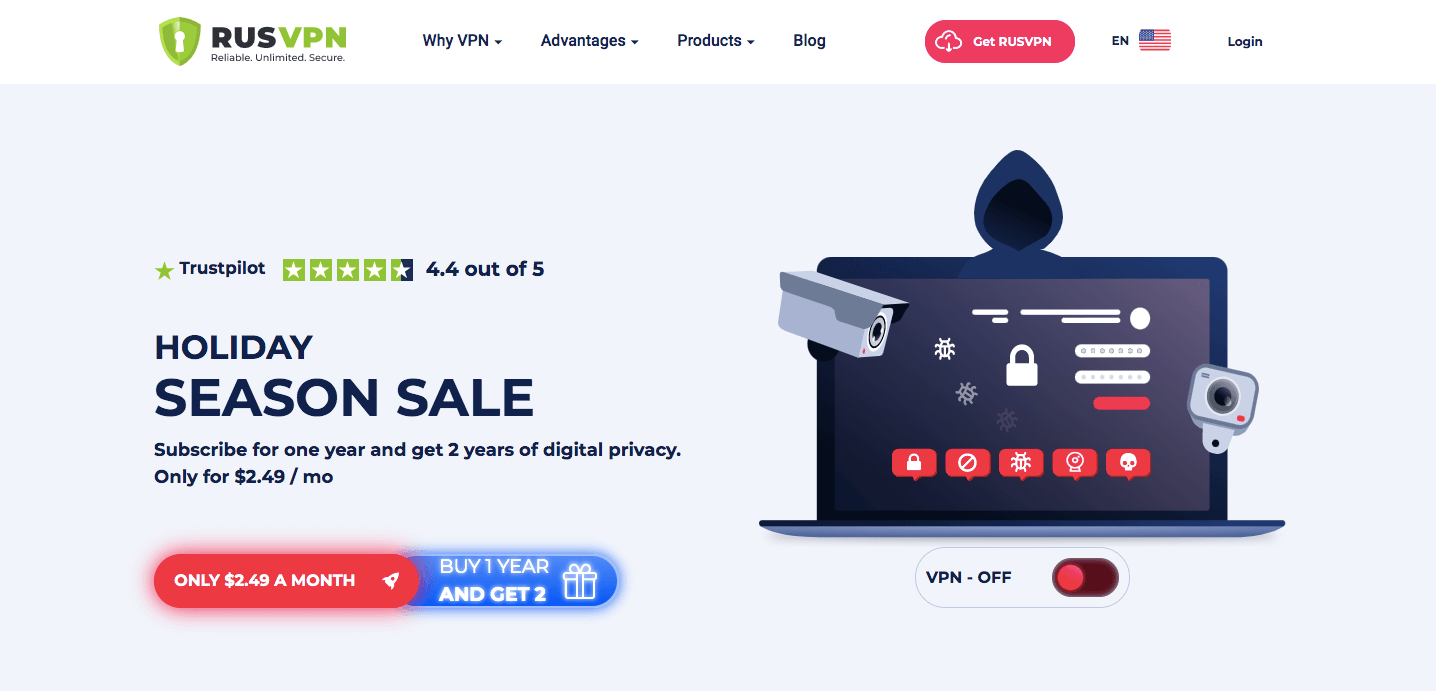 Summary Review
The letters R-U-S in their name stand for Reliable, Unlimited, and Secure. Let's get that out of the way, as some people assume the acronym stands for Russia. This 3-year old VPN is actually based on the Commonwealth of Dominica and is therefore not part of the 5/9/14 Eyes Alliance, making it ideal for privacy-conscious individuals.
They also promote safety by preventing surveillance and maintaining online anonymity. In terms of security, they aim to do this by securing your WiFi, encrypting data, and changing IP addresses. These are all stated on RUSVPN's website, but what strikes us the most is their mission to protect their users against price discrimination and marketer's gimmicks. In fact, they listed saving on steam purchases (a gaming platform), airline tickets, hotel bookings, and car rentals as some of the advantages of using RUSVPN. They even give student discounts!
Now, savings are great but do RUSVPN deliver when it comes to privacy and security? Keep reading to see if this VPN is worth checking out!
Privacy / Anonymity
As we have mentioned previously, RUSVPN is headquartered in the Commonwealth of Dominica. This island has strict privacy and data protection laws and regulations, making it ideal for VPN providers as they are not obligated to hand over user information upon request. If you take a look at RUSVPN's privacy page, it says that "since we do not store logs (records) of the connection, we can not link the request to the client's identity, even if we are legally forced to do this." After all, they cannot provide what they do not have, right?
With regards to security, RUSVPN does not disappoint. It utilizes OpenVPN 256-bit 2048 RSA technology and a host of other protocols like PPTP, L2TP/IPSec, and IKEv2, so all of your devices are pretty much covered. RUSVPN also features a Kill Switch technology which automatically disconnects your device from the Internet, securing your IP, until the VPN connection is restored. As an added security measure, RUSVPN also features DNS and IP leak prevention. All of these measures leave little to no chance of hackers, cyber-snoopers, and other digital creeps getting their sticky hands on any of your data.
Speed and Reliability
Speed is perhaps one of the most significant factors when choosing a VPN. After all, there's nothing more annoying than your Zoom call freezing or dropping. Or you're competing in an online game, but the lag has slowed your game down to a crawl, ensuring your defeat. So how did RUSVPN fare in our speed tests? There was a significant dropoff, but there shouldn't be any problem if your base speed is already good enough. Before connecting to the VPN, our download speed is 92 Mbps. Connecting to the US server decreased it to 38 Mbps while switching over to a server in Sweden reduced it down to 34 Mbps. Connecting to a server in Germany pulled our speed back up to 76 Mbps. It is hardly a surprise, considering that using a VPN almost always results in a slight decline in speed due to the encryption process. What's important here is that the resulting numbers are still fast enough for daily internet use.
Platforms and Devices







While most VPNs (yes, even the big names in the industry) still imposes device limits or device caps, RUSVPN allows unlimited simultaneous device connections. It is also compatible with the following platforms/browsers:
• Windows
• MacOS
• Android
• iOS
• Linux
• Routers
• OpenVPN
• Chrome
• Mozilla Firefox
Server Locations
RUSVPN has over 390 servers spread across 50 countries on five continents. It's nothing extraordinary compared to other VPNs with thousands of servers, but we think it's pretty fair considering that it's barely three years old. While most servers are concentrated in the USA and the UK, they have a few servers in Asia, Africa, and South America.













































Customer Service
Although RUSVPN offers 24/7 customer assistance, they have neither live chat nor phone support. Instead, you can reach them via email or support ticket. This kind of defeats the whole round-the-clock thing since you still end up waiting for a response, which in our case, took a few hours. We did some digging and found RUSVPN's Twitter handle, @RusVpn. The admin is quite active there, so we're guessing you can always DM them your concern. If you're not big on social media, you can check out their blog, which is full of helpful information, usage tips, and how-tos.
Pricing
RUSVPN have three billing options:
Monthly: $9.99
Annual: $4.99/month
Triennial: $2.99/month
All plans are covered by a 30-day money-back guarantee but take note that it doesn't apply if you've used up more than 500 MB of bandwidth. In any case, it should give you about 6 hours of browsing or an hour of standard-definition video, so if you're not happy, you can always request a refund and get your money back.