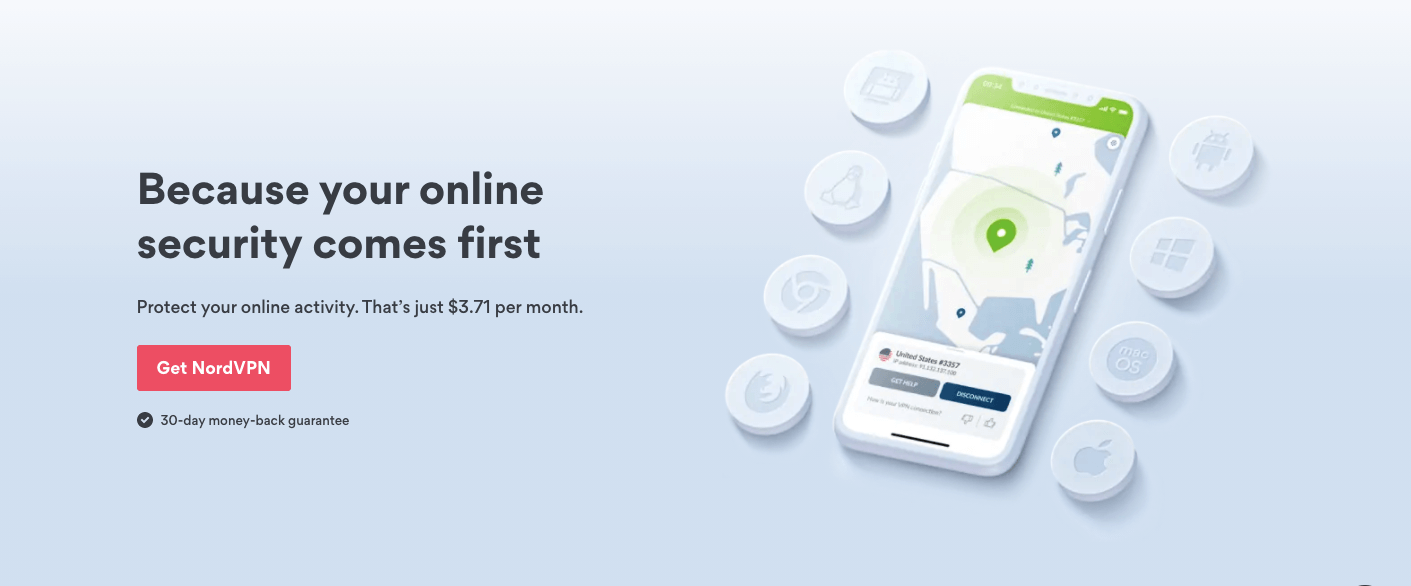 Summary Review
NordVPN has a really bold promise and that is to offer "the world's most advanced VPN". So far, they have been living up to this promise by ensuring tight security and privacy as well as advanced functionality, all at a really budget-friendly price.
You can expect to see a strict "no logs" policy, user-friendly interface, and well-designed applications, an excellent level of performance, along with a new set of extras that sets it apart from the competition. One of these extras is a feature called WifiSec which automatically connects you to NordVPN whenever you join secure or unsecured WiFi networks. This gives you peace of mind knowing that your connection is always private.
Privacy / Anonymity
Unlike other providers that offer only one or two security protocols and additional proxy as a paid add-on, NordVPN offers a host of powerful security protocols such as IKEv2, OpenVPN, WireGuard, and a free SOCKS5 proxy for app-level security. It also offers a kill switch feature that automatically ends your connection to a network that is being compromised by a cyber hacker or spy. They have a strict policy against logging and cooperating with law enforcement agencies. In addition, they have a feature aptly called WifiSec that skips annoying ads and blocks malicious and potentially harmful sites.
Speed and Reliability
One thing that turns people off from using a VPN service is that it can result in a speed loss of as much as 60-70%. After all, what use is being online when you can hardly do anything without your connection lagging? Thankfully, you won't encounter any lags with NordVPN. We tested its speed by connecting to a US and UK server and noticed a small speed drop of between 5 to 10%, which is impressive.
Platforms and Devices
You won't be disappointed by NordVPN's promise that it has a VPN for ALL of your devices. It supports all major platforms such as Windows, macOS, Linux, Android, and iOS. They also offer encrypted proxy extensions for Chrome and Firefox. Furthermore, there are plenty of options for manual configurations for some exotic platforms like Raspberry Pi and pfSense as well as for Windows XP, Blackberry, and plenty of other router firmware. What's more, NordVPN allows 6 simultaneous connections which are good enough for an entire family, gadget freaks, or a small business.







Server Locations
Currently, NordVPN offers 5,522 servers in 58 countries which is more than enough coverage for your day-to-day VPN needs, even for the most advanced users. They even have coverage in other regions not covered by other vendors, such as Africa, the Middle East, India, and China.






























































Customer Service
We like that NordVPN offers a 24/7 live chat option that is accessible all throughout their website. They even offer Non-English chat support. We tried connecting to a support agent and threw him some basic and technical questions. His answers were direct, concise, and polite. Navigating the support page is also really easy with separate categories on FAQ, General Info, Billing, and Connectivity.
Pricing
NordVPN currently offers 4 all-inclusive plans. You basically get the same features on every plan and the price varies depending on the length of your subscription. Understandably, the longer the commitment, the cheaper it gets. They have a month-to-month plan which costs $11.95. Commit to a 1-year plan and the monthly fee dwindles to $6.99 per month while a 2-year plan is available at $4.99 monthly. The 3-year plan is obviously the cheapest in the long run as you pay only $3.49 monthly, a huge savings of 70%! No matter which plans you choose, you are backed with a 30-day money-back guarantee.