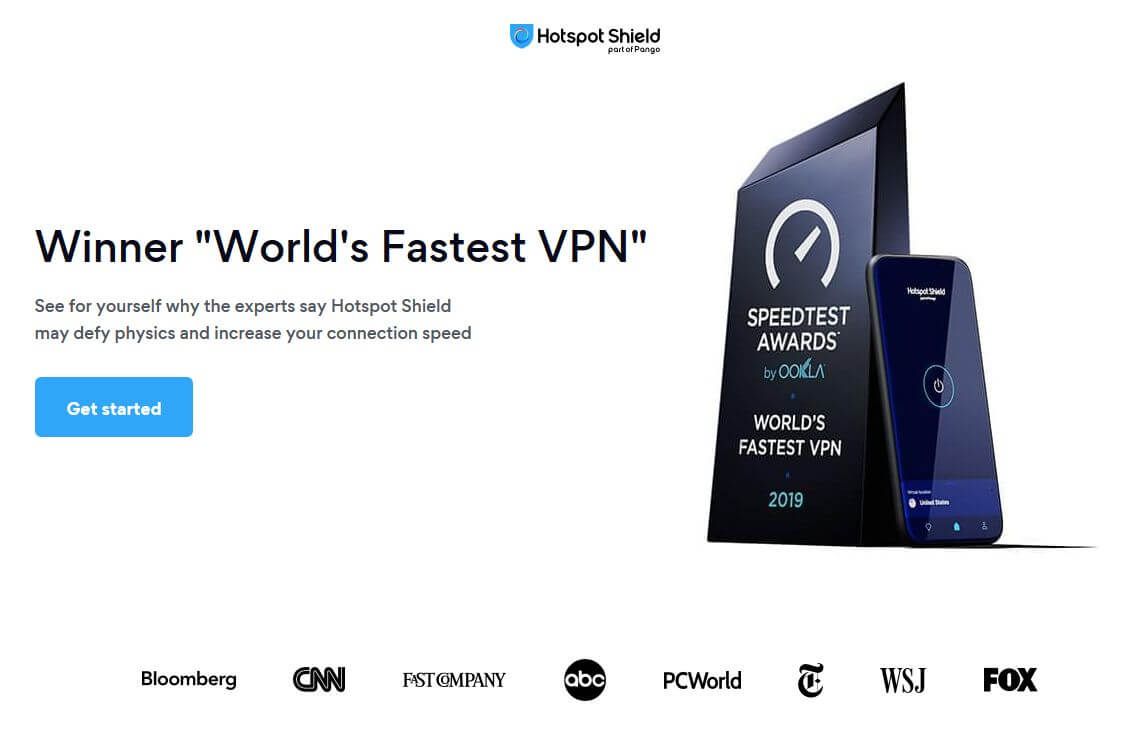 Summary Review
Established by a US-based company named AnchorFree, HotSpot Shield is a popular VPN service with over 650 million users and 3,200 servers located in over 70 countries. There's a lot to like about Hotspot Shield, including its ability to compress your data to improve download and upload speeds. It also warns you if you visit a malicious website and block it right away. They also offer blazing fast speeds and a superb user experience. However, on the other end of the spectrum is its mediocre privacy policy, which might be a deal-breaker for those looking for complete anonymity online.
Privacy / Anonymity
This is probably Hotspot Shield's "Achilles heel" as it's been hounded with privacy concerns over the years. The thing is, this VPN keeps a record of your connection logs and some of your personal information. They claim that it's mostly for quality assurance purposes. Fair enough. But say, the government demands to see some of this information, they will have no choice but to comply because they are based in the US and are thus tied to its laws. Do you see where the problem is? Also, while other VPN services use multiple encryption protocols, Hotspot Shield operates on a single protocol - OpenVPN with AES 256-bit encryption. Sure, it's one of the strongest encryption ciphers out there, but it would have been nice to have more protocol options.
Speed and Reliability
Hotspot Shield won "World's Fastest VPN" by the experts at Ookla's Speedtest and this is proudly displayed right on their homepage. During this test which measured increasing speed over long-distance connections, other VPNs showed a disappointing decrease in speed by as much as 42.5%. On the other hand, Hotspot Shield recorded an increase in its download speed by over 26.2%! Of course, we had to do our own tests and tried several servers in the US, UK, EU, and Asia. Hotspot Shield recorded an impressive download speed of 29.3 Mbps, 92.5 Mbps, 93.4 Mbps, and 81.00 Mbps, respectively. To say that is faster than most of its competitors in European and Asian servers would be an understatement.
Platforms and Devices
Hotspot Shield VPN supports all mainstream platforms such as Windows, Mac, Android, and iOS but because it requires its own proprietary Catapult Hydra protocol, you are unable to do a manual setup on routers nor does it work on the open-source operating system - Linux. It does offer Chrome and Firefox extensions and allows simultaneous connections for up to 5 devices that include computers and mobile devices. We say that's plenty enough for most users.





Server Locations
There are currently 3,200 servers in 70+ countries across the globe which opens up a whole new world of unique content. This also means faster connections when you connect to servers closest to your location, no matter where you are.



































































































Customer Service
Review sites have been raving over Hotspot Shield's lightning-fast speeds and beautiful user interface but sadly, you won't find a single glowing review of their customer support. Up until recently, their level of support is limited to a knowledge base filled with troubleshooting resources and guides along with an FAQ page for the most basic queries. If you're having some issues, you would have to reach out to their support team by submitting a ticket but the turn around time is notoriously bad. There was no live chat support which is pretty confusing considering its price point. Now, it seems like Hotspot Shield finally listened to all of these complaints and have added a real-time chat support window on its Help page. Just be ready to sign in with your registered email address and password.
Pricing
Hotspot Shield has a significantly hefty price tag compared to its competitors, charging $12.99 if you pay monthly. You get the most value for money when you commit to longer terms with a one-year subscription costing $6.99 per month and just $2.99 per month for a 3-year term. Unfortunately, there is no free version nor do they offer a free trial but they do offer a generous 45-day money-back guarantee.