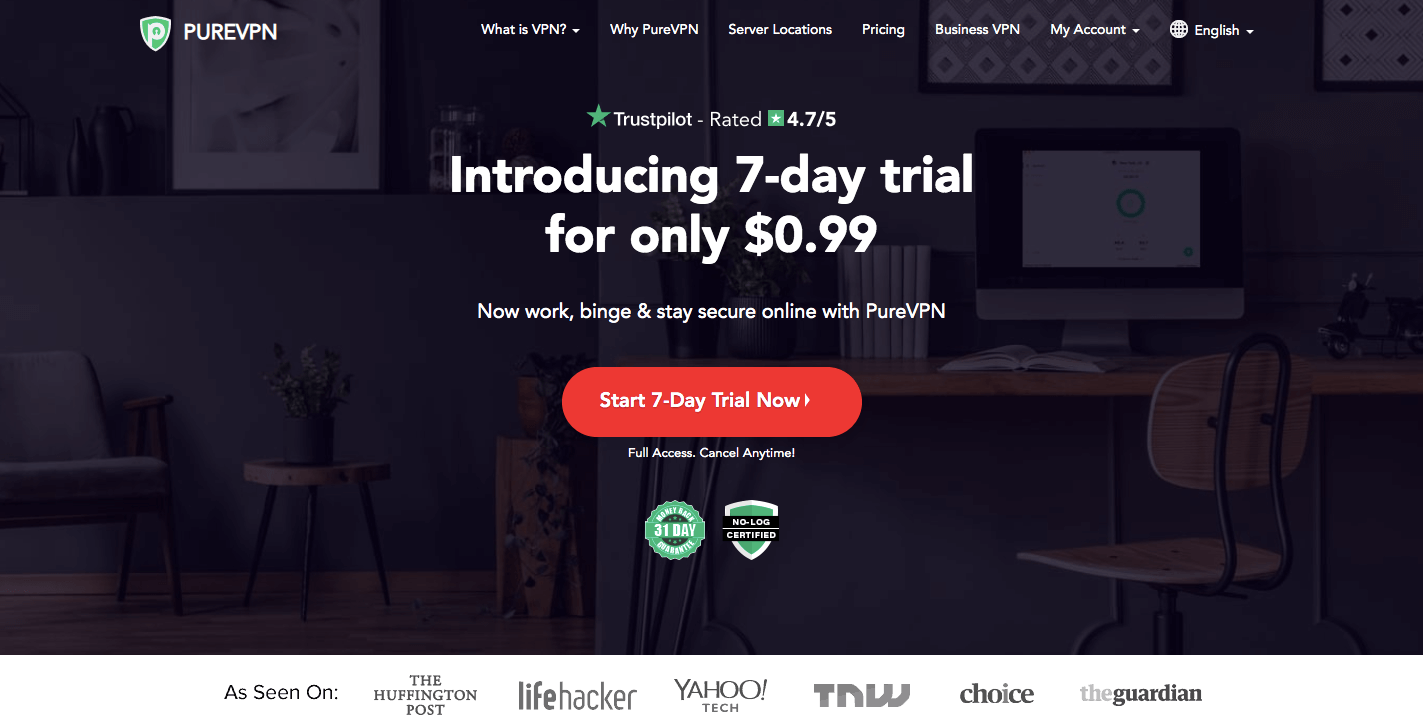 Summary Review
Founded in 2007, PureVPN is one of the oldest VPN providers in existence, and it shows. It has a substantial network of fast VPN servers worldwide, 6500+ as of our last count. It's compatible with nearly every device, including Roku, Boxee Box, Raspberry Pi, and more. It also supports a great deal of protocols so you can customize your experience according to your personal needs. Of course, you can let PureVPN choose the best protocol on your behalf, but if you want to be in charge of this decision, you can select among PPTP, L2TP, SSTP, OpenVPN, and IKEv2.
PureVPN also offers a broad range of security features, ranging from the familiar such as Kill Switch, WiFi security, and AES encryption, to something more complex like Split Tunneling, or IPv6 and WebRTC leak protection. Is PureVPN fast enough for online gaming and downloading large files? Yes and yes. After all, their slogan is "work, binge, and stay secure online with PureVPN." But are they any good? Read on and find out.
Privacy / Anonymity
PureVPN has had its share of privacy scandals in the past. You see, they advertised themselves as a no-log VPN provider, but in 2018, they handed what was supposedly "non-existent" data over to the FBI, leading to the arrest of one of their users -an alleged stalker by the name of Ryan Lin. Needless to say, their reputation took a hit, and they spent the last few years trying to regain the VPN community's trust. It looks like they have managed to successfully turn things around. In the online review community, Trustpilot, PureVPN scores an almost perfect 4.7 out of 5 with over 12,000 reviews. So, what changed?
It seems like they are now a 100% zero-log VPN. As per their privacy policy, "You are Invisible – Even We Cannot See What You Do Online. We DO NOT keep any record of your browsing activities, connection logs, records of the VPN IPs assigned to you, your original IPs, your connection time, the history of your browsing, the sites you visited, your outgoing traffic, the content or data you accessed, or the DNS queries generated by you." To prove this, they had their security systems and privacy policies audited by a third-party auditor, Altius IT. This firm specializes in cybersecurity audits, network security audits, and website security testing compliance services.
Aside from fixing their privacy issues, PureVPN also worked hard to improve existing services by doubling its network, revamping its apps, and offering high-end security features. They are the first VPN to have built-in server-level antivirus capabilities to protect you against viruses, malware, botnets, and spyware. You can also avoid phishing scams with PureVPN's Web Filtering feature and keep online distractions at bay with App Blocking. Their DNS Leak Protection keeps your data safe from spammers, hackers, stalkers, and even surveillance agencies. Zoom sessions? Keep your video conversations private with PureVPN's WebRTC Protection!
Speed and Reliability
In general, you can expect a speed loss of around 10-20% when connected to a VPN. This is to be expected, considering that there are extra security layers that were not part of your connection before. However, if you're using a decent VPN, the drop should be barely noticeable. This is the case with PureVPN. We started with a base download speed of 15.52 Mbps, and after connecting to a server in the US, our speed dropped to 13.75 Mbps. We then connected to a server in Australia and got a result of 12.13 Mbps. That server is located halfway across the world, so it's impressive that our speed only slowed down by 22% overall.
Platforms and Devices
PureVPN is known for its cross-platform support and has native apps for almost anything. You will find dedicated pages with setup instructions for the following:
• Windows
• Mac
• Android
• iOS
• Chrome
• Firefox
• Router
• Firestick
• DDWRT Applet
• Linux
• Blackberry
• Gaming Consoles
• Qnap









Server Locations
PureVPN has a massive server network of more than 6,500 servers in 140 countries and 180+ locations. Great news, especially for frequent travelers, as the closer you are to a server, the faster your connection would be. Most servers are in Europe and North America, but they also have hundreds of servers in Asia, Oceania, Africa, South America, and Central America. With a network this extensive, you won't have any trouble connecting wherever you may be.









































































Customer Service
PureVPN has all support channels covered: 24/7 live chat, email, support ticket, and even snail mail.
Mailing Address:
GZ Systems Limited
36/F, Tower Two, Times Square, 1 Matheson Street, Causeway Bay, Hong Kong.
Email Address: enquiry@purevpn.com
They also have a comprehensive support page where you can find tutorial and troubleshooting guides and dedicated sections on FAQs, Account & Billing, VPN Use, Business, Learning Center, Status & Announcement.
Pricing
PureVPN's 7-day trial is too good to pass up. Unlike free VPNs that limit your bandwidth and data to "force" you into upgrading, PureVPN grants you 7-day access to all its premium features for just $0.99! After the trial and you're happy with it, your subscription renews at $69.95 billed annually. That works out to around $5.80 per month. PureVPN also offers a month-to-month plan at $10.95 and a 2-year plan at $3.33 per month. All plans come with a 3-day money-back guarantee.