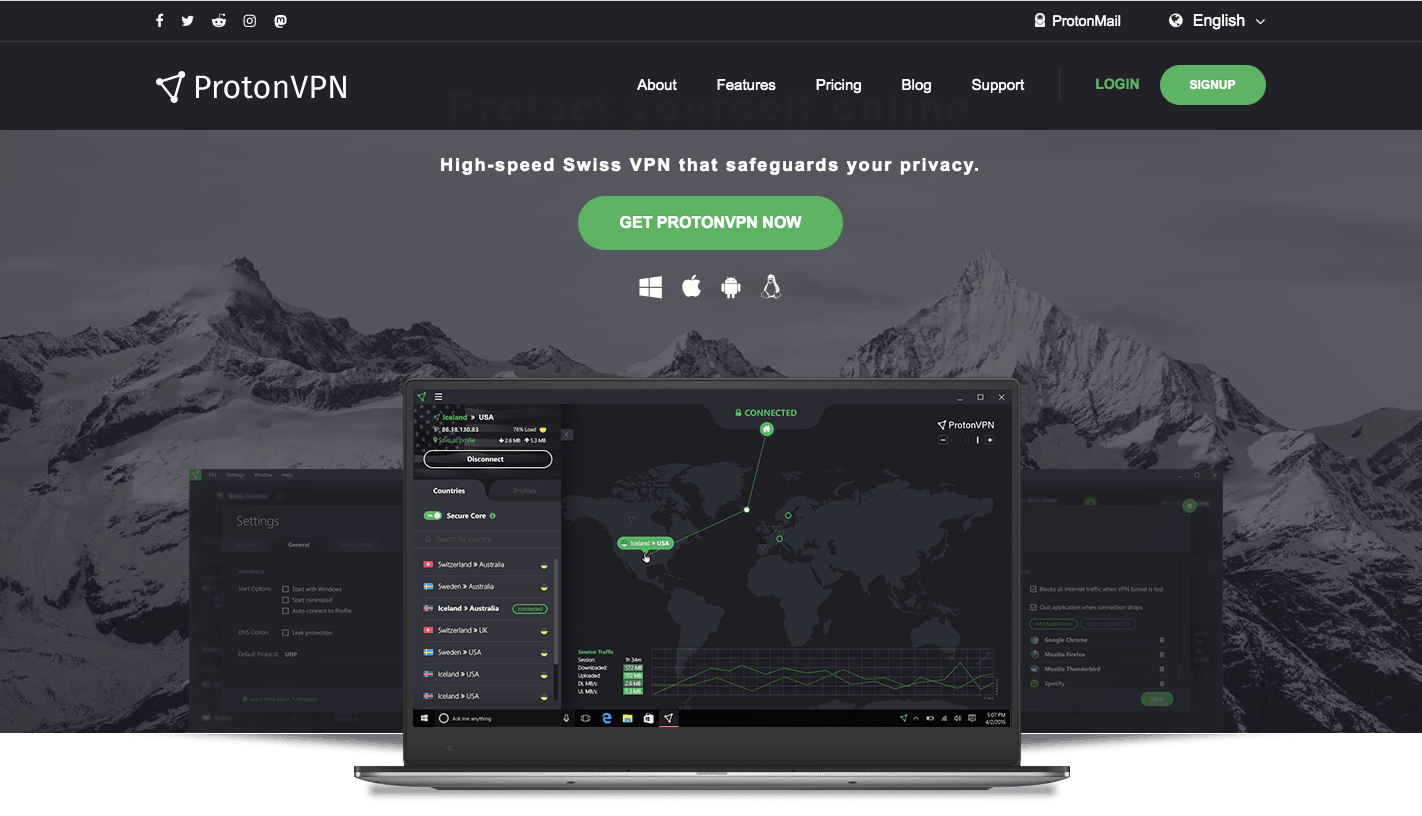 Summary Review
Unlike some VPNs borne out of basements and bedrooms, ProtonVPN was developed by security experts, engineers, scientists, and developers over at CERN in 2014. It started with ProtonMail, the world's largest, fully encrypted email service, that renders all your emails virtually unreadable to anyone but the recipient - Not even ProtonMail can read ProtonMail emails.
The group didn't stop at a super encrypted email solution though, pushing the privacy envelope even further with the development of ProtonVPN. Initially aimed at protecting journalists and activists who use ProtonMail, the company now brings the same online privacy and security to the masses with ProtonVPN.
ProtonVPN's sophisticated security features such as perfect forward secrecy, full disk encryption, and secure core servers may feel like it's designed for government officials or political dissidents. Our tests, however, revealed that it's pretty handy for regular folks like you and me.
ProtonVPN ensures everything you do online is smooth and lag-free - welcome news for people who are self-isolating now. ProtonVPN will also have no problem getting you access to your school's network if you take online classes. The same is true for people who are working from home. Shopping online? We used ProtonVPN to find bargains by connecting servers in different countries and comparing prices.
All in all, we're happy with the speed and performance. It boasts more than a thousand servers, so you won't have to worry about overloaded servers and network congestion. It's compatible with almost every device, and the apps are well-designed and intuitive.
Privacy / Anonymity
Perhaps because of its background as CERN and MIT scientists' brainchild, ProtonVPN's security features are no joke. Before we dive deeper into security, let's discuss their stance on privacy first. ProtonVPN has a strict no-logs policy. According to their Privacy Policy page, they "do not store information about your connections or the websites you visit. For the purpose of securing your account and making sure it's you who is signing in, we store a single timestamp of your account's most recent login. Here again, we do not store any information about where you signed in from, how long you were logged in or where you logged in from..."
You can see this policy in action on their annual transparency reports, which disclose incidents of legal requests for subscriber data. In addition, ProtonVPN is based in Geneva, Switzerland - a country known for Swiss banks and its strong privacy laws. It's safe to say that ProtonVPN just might be the best option out there from a privacy perspective.
In terms of security, ProtonVPN does not lack anything either. They have all the usual protocols you might already be familiar with: AES-256 encryption, IKEv2/IPSec, and OpenVPN. Their Perfect Forward Secrecy feature guarantees that your online transactions are secure, while AdBlocker (NetShield) protects you against malware, website trackers, and intrusive ads.
What makes ProtonVPN unique is its Secure Core feature that keeps your connection secure by automatically routing your traffic through multiple servers before its actual destination. What's more, all of their apps are open source, so anyone can check and ensure that it's not doing anything shady.
Speed and Reliability
There's usually a tradeoff between a VPN's encryption and latency; the higher the encryption level, the more it reduces the internet speed. However, this is hardly the case with ProtonVPN. Before connecting to any of their servers, we had a download speed of around 54Mbps. After connecting to a nearby US server, the speed dipped to 39 Mbps and approximately 35 Mbps while connected to a UK server. Even after switching to servers in countries located across the world like Hong Kong and Japan, we still got a decent speed of around 20 Mbps. We experienced getting disconnected from time to time which can be a little annoying, but with more than a thousand servers to choose from, it shouldn't be a problem. The bottom line is, the speed is fast enough for browsing, gaming, and more.
Platforms and Devices
ProtonVPN supports multiple platforms and has native apps for Windows, Mac, iOS, and Android. There's also a beta app for most Linux Debian-based distros and Fedora 33 and installation instruction for different routers. Depending on what subscription tier you're on, simultaneous device connections can range from 1 to 10.







Server Locations
Even though it has only been around for seven years, ProtonVPN has managed to build an impressive server distribution. With a network of 1,237 servers in 55 countries, ProtonVPN offers extensive coverage across US and European countries. It also works in places you would least expect, such as in India, China, United Arab Emirates, Hong Kong, and other areas usually ignored by other VPN providers.























































Customer Service
ProtonVPN may not have round-the-clock support, but we were pleased with their ticketing system. We sent them a message via an online form and were surprised to hear back in less than a day. This is quite refreshing considering that most other providers take a few days if we're lucky. In addition, they have an FAQ section with helpful information on downloads and setups, troubleshooting, and more.
Pricing
Contrary to a standard VPN practice, ProtonVPN operates on a tiered subscription service. This actually works in the user's favor as it offers more flexibility and allows you to pay only for what you need. ProtonVPN currently offers three subscription plans. The Basic plan costs $4/month and includes 2 VPN connections, access to servers in 55 countries, high-speed connection, strict no-logs policy, and Adblocker (NetShield).
Just add $4 more to upgrade the Plus plan and get three additional VPN connections, Secure Core VPN, TOR over VPN, and unlimited bandwidth and data. The Visionary plan might be a bit steep for an average user at $24/month, but it grants you everything Plus plan offers aside from raising your simultaneous connection to 10 devices. What you're really paying for here is the top paid tier of ProtonMail - 20GB storage, 50 email aliases, 10 email domain support, and 5 users on a single account. Plus, your subscription includes a secure address book, private ProtonCalendar, and the forthcoming ProtonDrive file locker. If you don't really see a need for an uber-private email solution, then the Plus plan is more than enough.